Educate Yourself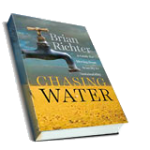 Chasing Water was written as a basic, easy-to-read primer for those wishing to learn more about the root causes of water shortages and ways to resolve them in your local community. Reading this book is a great way to increase your understanding of water problems and empower yourself with the knowledge to become a water leader in your community.
---
Conserve Water
Here are five of the biggest ways to reduce your personal water footprint.
Reduce Your Outdoor Watering
Reduce Your Consumption of Animal Products
Stop Wasting Food
Stop Wasting Energy
Install water-efficient plumbing fixtures
---
Share the Knowledge
Give copies of the Chasing Water book to your local school or university, library, conservation group, or anyone else of your choosing!
Purchase copies through the Island Press website in order to donate them to an organization in your area and you'll receive a 30% discount and free shipping on hardcover or paperback copies. The full discount will be applied once you add books to your shopping cart using the library discount link. Before purchasing books, please speak with the organization to which you'd like to donate, as many libraries have strict rules about the books they can receive.
---
Support the Good Work of Others
Click on one of the links below to learn more about the important water work being done by these non-governmental organizations to help solve water problems, and then sign up for a membership as a show of your support!