Chasing Water: A Guide for Moving from Scarcity to Sustainability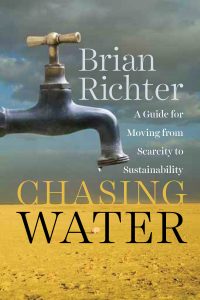 Water scarcity is spreading and intensifying in many regions of the world, with dire consequences for local communities, economies, and freshwater ecosystems. Current approaches tend to rely on policies crafted at the state or national level, which on their own have proved insufficient to arrest water scarcity. To be durable and effective, water plans must be informed by the culture, economics, and varied needs of affected community members.
International water expert Brian Richter argues that sustainable water sharing in the twenty-first century can only happen through open, democratic dialogue and local collective action. In Chasing Water, Richter tells a cohesive and complete story of water scarcity: where it is happening, what is causing it, and how it can be addressed. Through his engaging and nontechnical style, he strips away the complexities of water management to its bare essentials, providing information and practical examples that will empower community leaders, activists, and students to develop successful and long-lasting water programs.
Chasing Water will provide local stakeholders with the tools and knowledge they need to take an active role in the watershed-based planning and implementation that are essential for water supplies to remain sustainable in perpetuity.
Chapter 1:  Running Out of Water
Chapter 2:  Taking Stock of our Water Budgets
Chapter 3:  Options for Resolving Water Bankruptcy
Chapter 4:  Who is Responsible for Water?
Chapter 5:  Seven Principles for Sustainability
Chapter 6:  Bringing Power to the People
Chapter 7:  How to Survive a Water Crisis: Murray-Darling Basin, Australia
Chapter 8:  Chasing Hope
Acknowledgments
About the Author
Index
Click the links below to purchase foreign language versions.